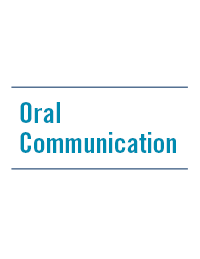 In This Section
Information on how to effectively plan, practice, present and design visuals for an oral presentation.
---
Overview: An introduction to oral communication, including a sample speech outline.
Planning Your Talk: Strategies for preparing your oral presentation.
Practicing Your Talk: Strategies and methods for rehearsing your presentation.
Performing Your Talk: Tips you can use while giving your presentation.
Supporting Your Talk with Visuals: Tips for designing visuals and integrating visuals into your presentation.