by ECP faculty member Robert Irish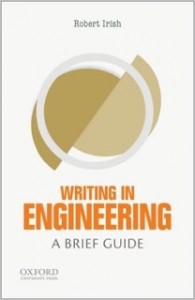 At once sophisticated and practical, Writing in Engineering: A Brief Guide leads students through how to compose design reports, lab reports, and other key engineering genres while attending to the principles of argument, style, and visual design. It is a part of a series of brief, discipline-specific writing guides from Oxford University Press designed for today's writing-intensive college courses.
Robert Irish is an Associate Professor, Teaching Stream in Engineering Communication at the University of Toronto. In 1995, he founded the Engineering Communication Program, and served as the program's director until 2008.  He has taught in courses in every department in Engineering, and currently teaches the Praxis courses in Engineering Science.  His research interests lie in argument and argumentation, such as how engineers disagree and form new knowledge.
Professors can check out the book, request exam copies, and contact an Oxford sales rep to discuss purchasing orders here.